moonvoice
It's definitely spring,
but early spring. In a couple of weeks,
it'll be pretty incredible.
As it is
Koondoola is always pretty incredible.
It's obvious to see why.
Donkey orchid.
Diurnis magnifica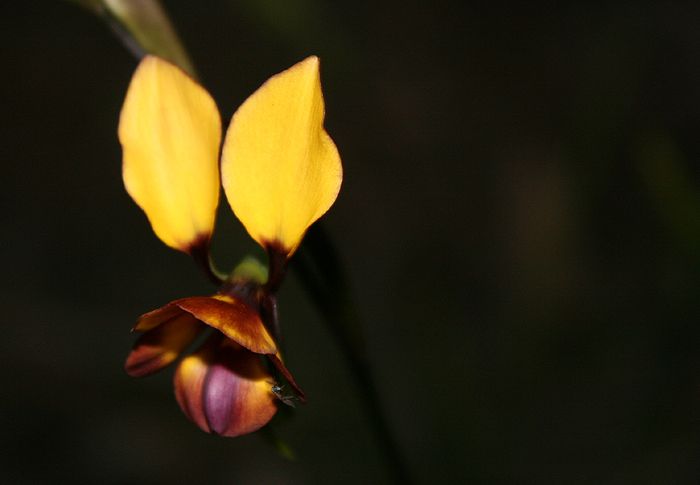 Astrolobium xerophyllum. Beautiful. But damn if they aren't super prickly. The flowers are really robust too, not soft, despite the way they look.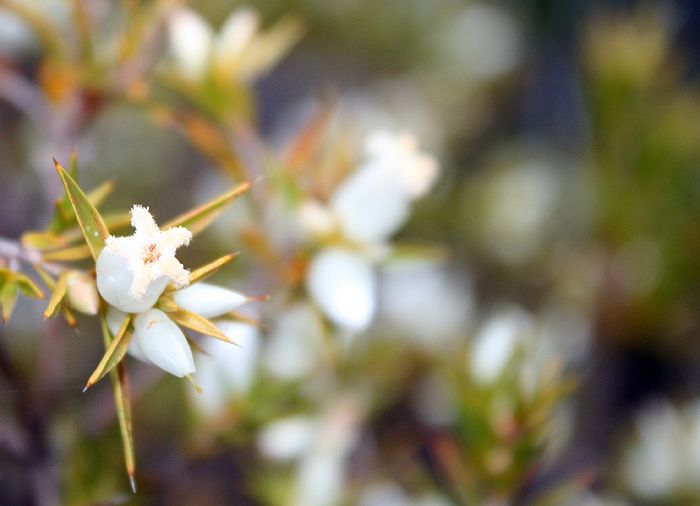 Calectasia grandiflora. Yay! This one has a common name! Which is the Blue Tinsel Lily. The flower with the yellow stamen on the right is new, the flowers with the red stamens are old. It's not uncommon for Western Australian flowers (particularly stamens) to age to a vivid red as the flower ages. This is to attract different animals over a period of time.



Cat's Paw. These are, of course, related to Kangaroo Paws, except they grow much lower to the ground, and have this lovely yellow-to-red gradation. They are as fuzzy as they look. And it's a lovely soft-fuzzy, instead of prickly-fuzzy. Like velvet.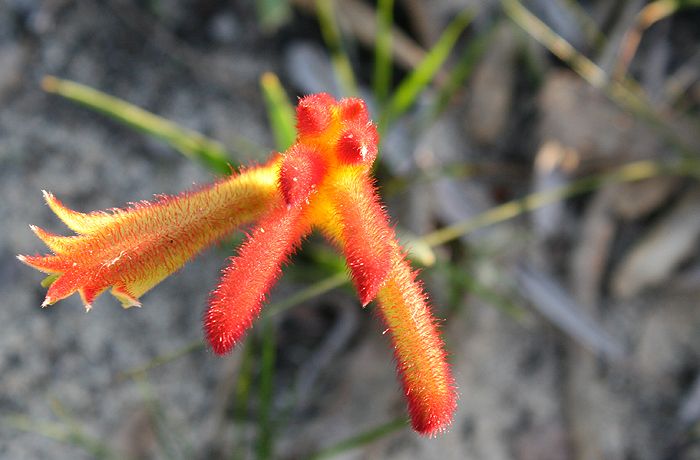 Cat's Paw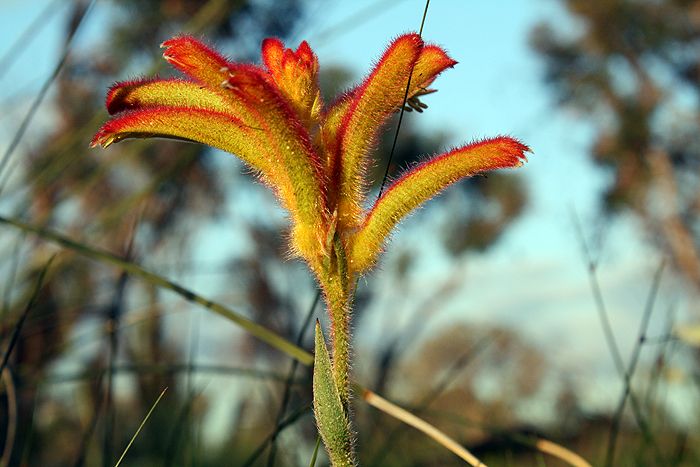 Conostylis. Conostylis are also related to Kangaroo Paws. However, unlike the cat's paw, there are so many different species - particularly in kwongan bushland - that they can be difficult to identify specifically.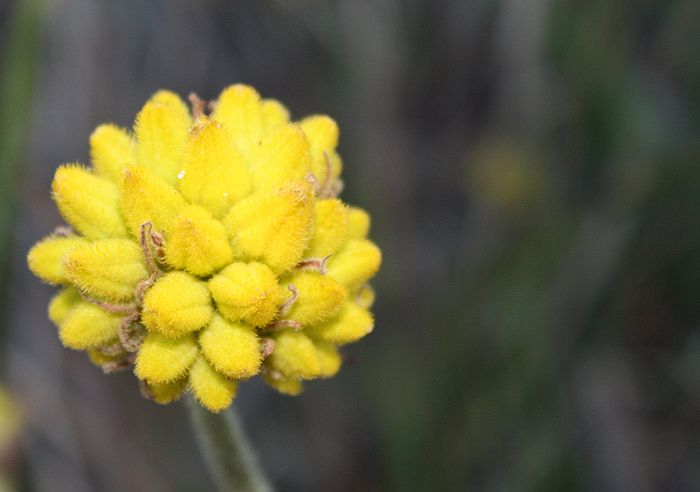 Another species of conostylis. Both this, and the one above, are not yet in full flower. These are the yellow buds, and they will open in about a week.


Milkweed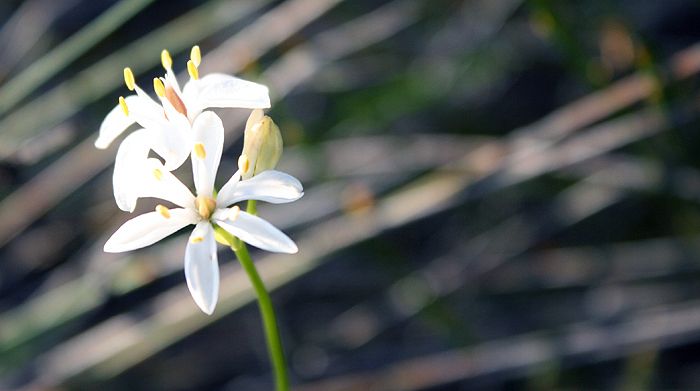 Cowslip orchid. I have never, in over 10 years of visiting Koondoola, seen as many cowslip orchids as there were this year. Usually they're only in one spot, but you have a fairly decent chance of seeing them pretty much along any of the northern / centre paths (if you keep your eyes open, that is).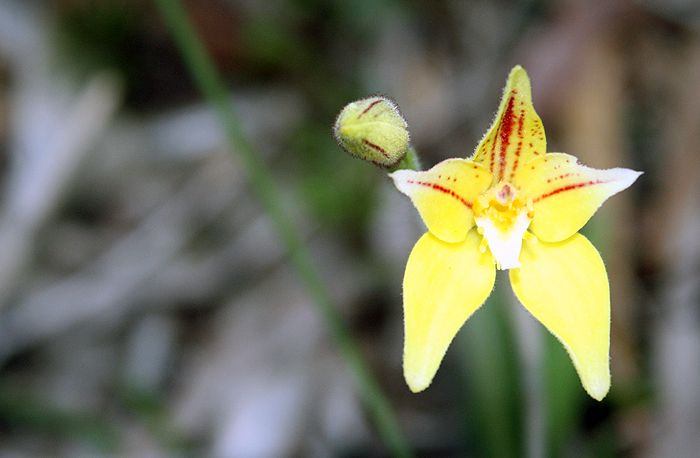 Cowslip orchids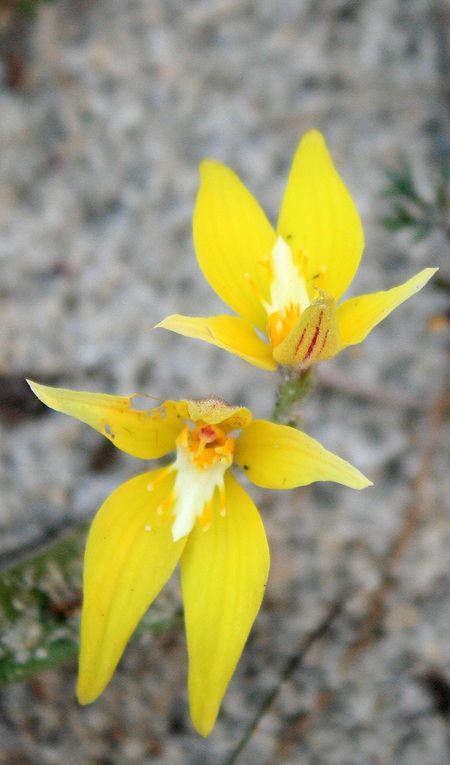 Donkey Orchid.
Diurnis magnifica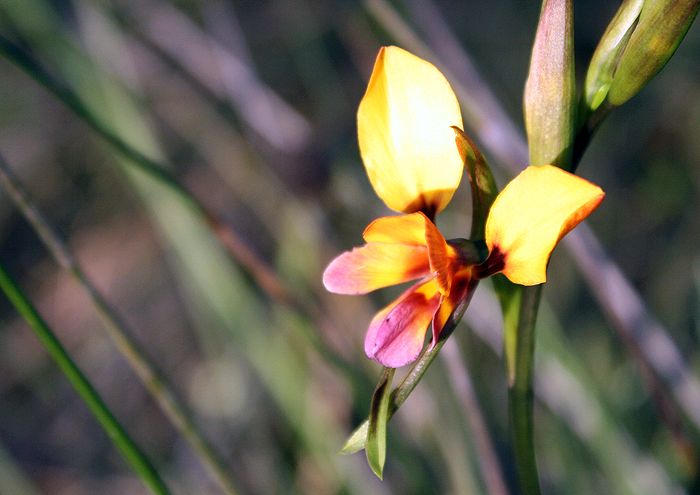 Kangaroo Paw. Anigozanthus menziesii; Western Australia's national flower. Yes, just as fuzzy as it looks. Popular in gardens because they're so hardy, drought resistant, and produce beautiful flowers. But get really straggly after two years, and need to be split (they're rhizome based) and whipper-snippered or hacked down to ground level.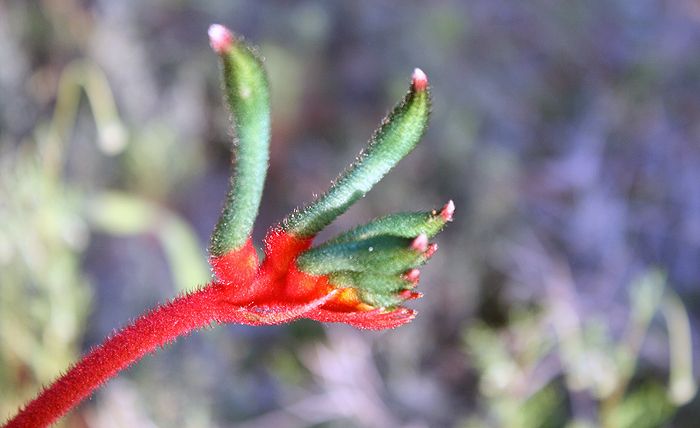 Blue Lechenaultia - Too lazy to find the species for you.


Native violets.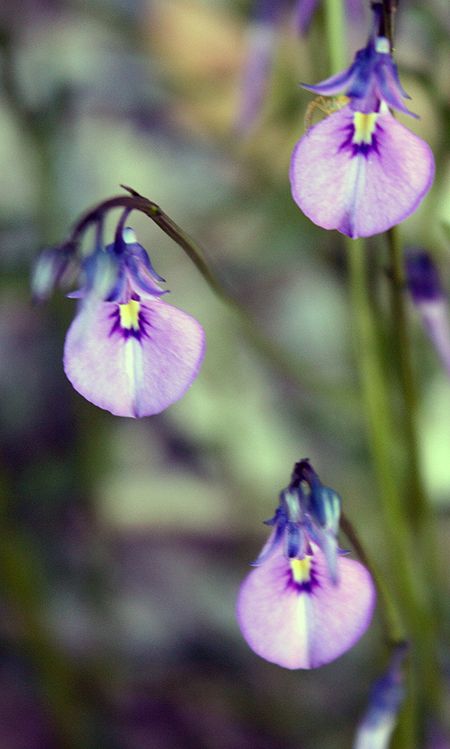 West heading East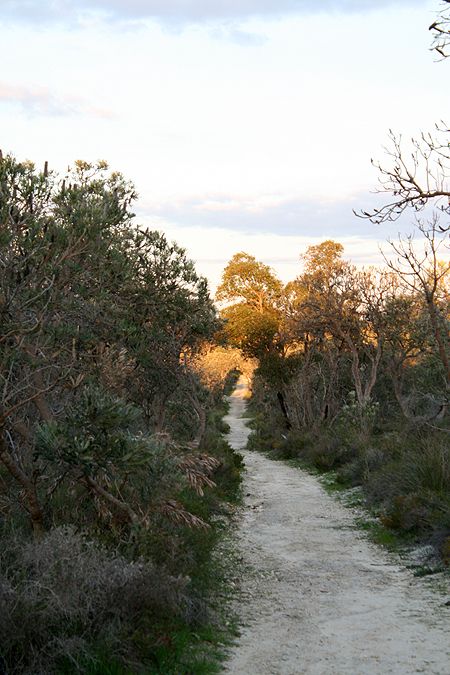 A different West heading East
North heading South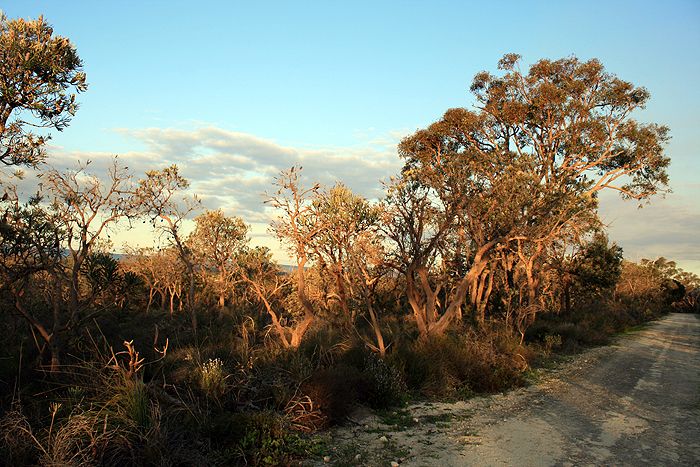 A member of the pea family. That's probably not specific enough for you guys though, is it? Here, have a scientific name: Daviesia incrassata. My favourite Daviesia. These things look SO AMAZING.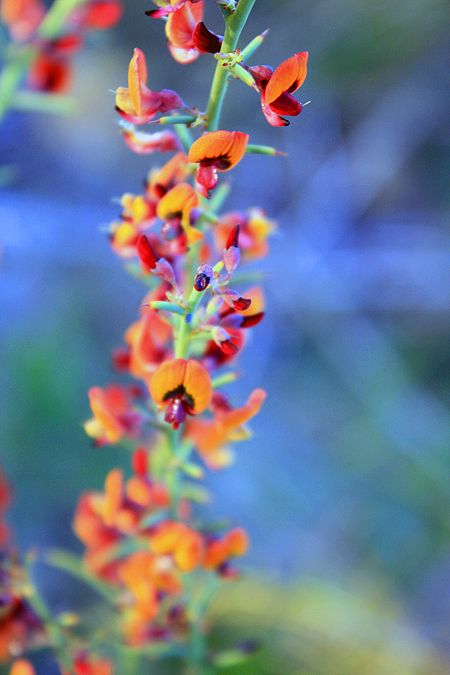 Don't believe me?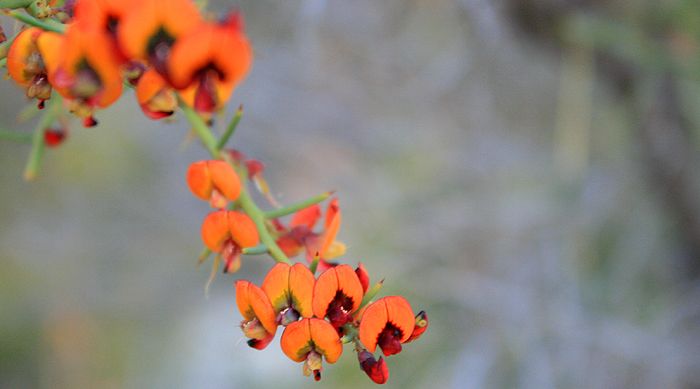 Still don't believe me?
Now I'm just wallowing in pretty.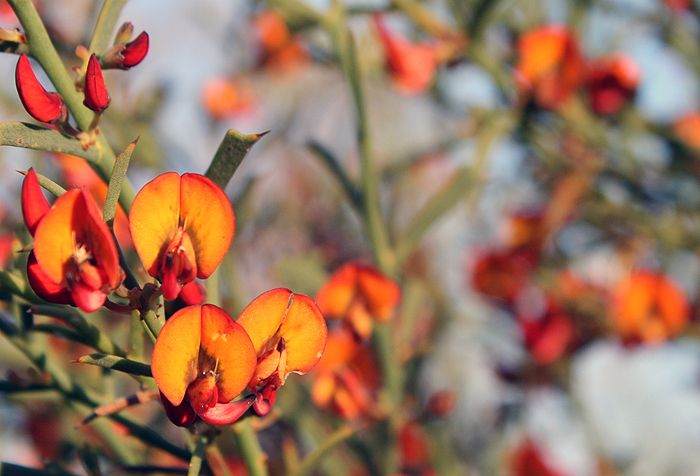 Yet another member of the pea family. Easily a Daviesia (and most likely closely related to Daviesia costata, but with 90 species of Daviesia in Western Australia alone, all my 'wildflowers of South Western Australia' still don't have enough space to cover all the variations. So, 'just a species of Daviesia' will have to do.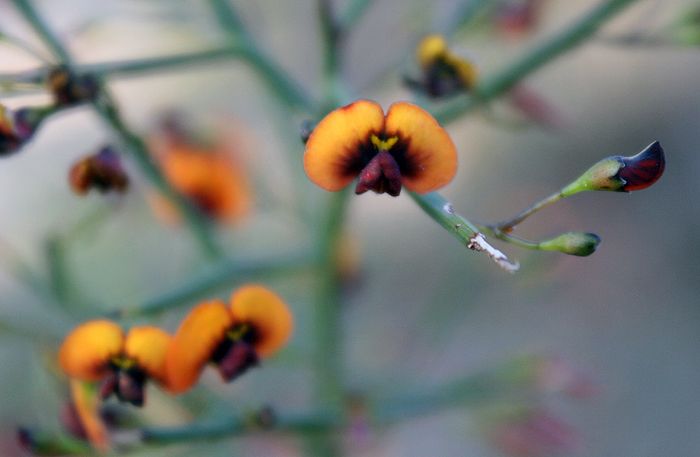 This one's easy. Swan River Myrtle. Very common.



The Yellow-Throated Miner we saw. Taking a breather, after duking it out with two red wattlebirds. Resting in a Menzie's banksia.